It was obvious that I was in luck as soon as I signed onto the Zoom call to talk to Dr. Jacob Dums (he/him/his), the newest addition to the Biotechnology Program. Besides being incredibly easy to talk to, it was immediately clear that he genuinely enjoys talking about both science and mentoring, which is incredibly important to him.
Dr. Dums got his start at the University of Wisconsin – River Falls, where he studied biotechnology, with an emphasis on plant biology. In the summer before his senior year, he participated in an internship on NC State's campus, which exposed him for the first time to synthetic biology. This proved to be excellent foreshadowing, as he started a PhD program in plant molecular biology here the following academic year. During his program, he conducted research in the lab of Heike Sederoff, focusing on the utilization of algae in biofuels production.
When I asked about his choice of major and program, he said, "I've always been fascinated by plants and how varied they can be." A newly-minted plant connoisseur myself, I couldn't help but ask him whether he had any houseplants. "I have… oh gosh, I have a lot," he said, looking around the room behind his laptop. Many of his plants serve as a reminder of friends and family now living much further away, he said. "I'd definitely be heartbroken if a few of these plants died."
After completing his PhD, he moved to the University of Delaware to pursue postdoctoral studies focusing on viral and microbial ecology. "After my PhD, I wanted to focus more on microbes," he said, "Being in the plant microbial world was a little weird." Because his research didn't fit neatly into either plant science or microbiology, he felt slightly ostracized by both groups. "I liked the work, but I decided it would be better to focus on one or the other; and I chose microbes," he said. However, he does still love plants and plans to teach a plant genetic engineering course as part of his postdoc in the Biotechnology Program.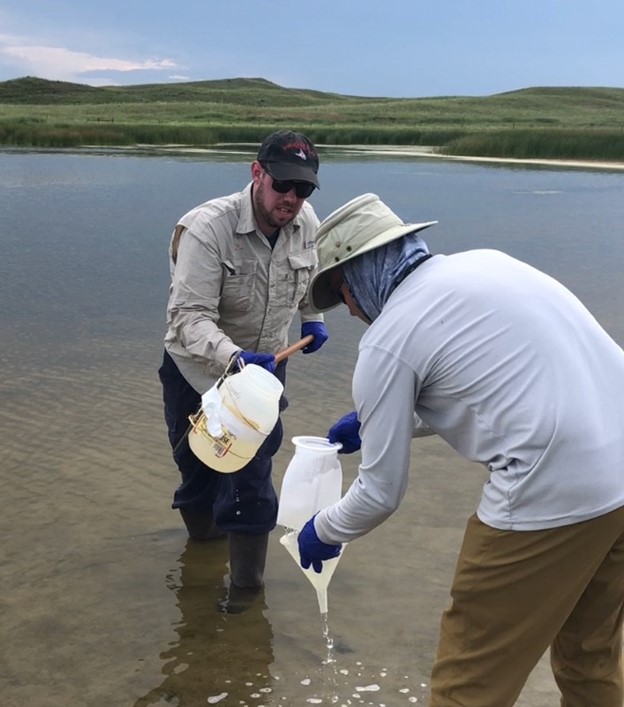 While in Delaware, he joined the Rainbow Chorale of Delaware. When I asked about the choir, he said that he had been in a concert choir in undergrad as well. He also mentioned that he loves musicals; in fact, he loves them so much that he has been caught singing in the lab several times. He's still in contact with his choir in Delaware, and talking to them has been helping him whilst in quarantine. "I do want to join a new choir in Raleigh once the situation is safer, but the Rainbow Chorale will always be my family!"
After a two-year-long stint at the University of Delaware, Dr. Dums has returned to NC State to join the Biotechnology Program. He brings with him a research project focusing on algae virus biology and biotechnology, but his true passion is for teaching and mentoring. As a graduate student, he discovered a "love for teaching," which is obvious when he talks about getting to teach three classes this fall. His tone changes from relaxed and conversational to eager and enthusiastic. "I just really like helping people understand the world around them."
As for mentorship, well, that's one of the reasons he wanted to be an instructor in the first place. "I still like research, but I really prefer to mentor students," Dums said. He is a first generation student from rural Wisconsin, so his own mentors helped him "realize [his] potential" and learn about the opportunities that were available to him. "I will forever value the time and energy those mentors gave to me. And they continue to help me to this day as I develop my research and education skills." He views mentorship as a way of paying it forward. As a graduate TA, he was able to act as a mentor for many students and he says that he "treasures" those opportunities. "I have experienced the life-altering impact of a good mentor, and I want to be that for students."
I asked him about what advice he had for students because, well, students can usually benefit from some. "Always be open to change," he said, "I want to normalize changing your plan, path, perception, outlook, etc. when new information and circumstances arise." In grad school, he says, he tried to fit the classical idea of a robotic scientist: one that is independent and self-sufficient, who can subsist off promising data and two hours of sleep alone. "I had plenty of proof all around me that scientists did not have to fit that mold, but I wouldn't let it go. It nearly broke me." He had to learn to "be open to change and embrace it" in order to survive.
Any other advice? "It's okay to not be okay. There's this idea that scientists are robots… and STEM students often try to live up to it," he explained. Everyone has ups and downs, and both of those are okay. "When I was near breaking. I had to learn to not beat myself up for not being okay. The downs are just as valid as the ups." Now, he frames 'downs' as a normal part of life, not a symptom of 'failing' at life.
"It's okay to not be okay. There's this idea that scientists are robots… and STEM students often try to live up to it"
Dr. Dums will be a mentor for the BIT SURE program to be hosted by the Biotechnology Department next summer. He is looking to work with two students: one would focus on isolation and characterization of novel algae viruses, while the other would involve developing an algae genome engineering system. Applications are due at the end of January.
He can also be found on Twitter at @JacobDums if you are looking for viral ecology and job posting retweets.
Dr. Dums after obtaining his PhD, holding a stuffed algae toy that represents the focus of his graduate research. Photo credit to Jake Kitchener.