Introducing… Comparative Plant Transcriptomics!
Are you interested in bioinformatics, but too intimidated to take a class or try to teach yourself? Or are you interested in how bioinformatics could be applied to plants? If you answered yes to either of those questions, the BIT Program's new course, Comparative Plant Transcriptomics (BIT 495/595), might just be for you!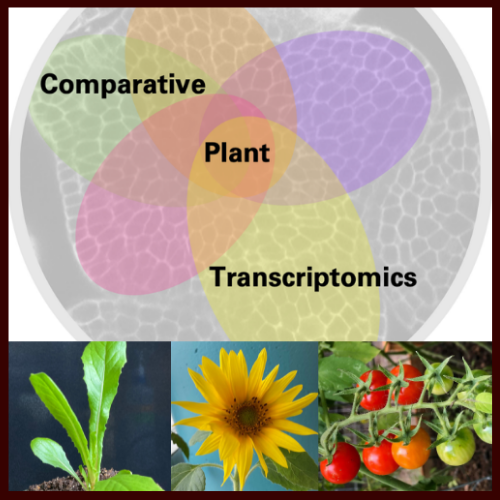 Dr. Carly Sjogren, who joined the BIT Program last spring, will teach the course this semester (Spring 2022) in Session II (second eight weeks). "The course is designed to enable researchers to tackle a next-generation sequencing (NGS) project," she said. It will be centered around generating and analyzing NGS data using bioinformatics techniques. Students will be working with genomic data from plants such as tomatoes, sunflowers, lettuce, and the classic, Arabidopsis. 
Given that COVID-19 is still impacting courses' availability and format, Dr. Sjogren has planned for the lab activities to be conducted mostly online and asynchronously, so that any change in format doesn't disrupt the course too much. "I'm trying to put myself in the shoes of my students," she said. That means she's trying to be as flexible as possible by structuring the class around spring break and giving students a week and a half between when the lab work happens and when it's due, rather than a standard week.
Labs are on Mondays, followed by lecture on Wednesdays, which isn't necessarily an ideal setup. "I'll introduce new content on Wednesdays in lecture, and we'll then apply it the following Monday in lab," she said. Lab assignments will be due two Fridays after the beginning of each module. That way, students have enough time to work at their own pace, troubleshoot, and ask questions. "If we need to slow down so I can help students, we can definitely do that," she continued, "What's important is that the class is a valuable experience for the students."
Dr. Sjogren designed the course to be "bioinformatics for biologists," so she'll take students through the whole process, from setting up their "working directory" to analyzing and visualizing their data. Students will work on the Arabidopsis data together, and then work on additional plant species in groups. In the final weeks of class, they will identify differentially expressed genes between different tissues in their species of choice and perform a gene ontology analysis on genes of interest. Finally, they'll compare their results between species to see which genes have similar levels of expression and which do not. For example, "a tomato leaf and a sunflower leaf may each express many genes related to photosynthesis, but they'll each have different secondary metabolites and pathways."
Though previous knowledge of coding or bioinformatics may be useful for students entering the course, Dr. Sjogren says it's entirely unnecessary. "I used a typewriter for all of my assignments in high school, and to write my college essays," she said. She didn't use a computer on a regular basis until she was in college, and she really didn't use it for research or work in science until she was in graduate school. "It took me a while to get accustomed to computer work," she said, "and I think it's normal to be a little intimidated by it. As biologists, we don't always want to embrace skill sets that we struggle with, but a growth mindset can make it all really fun."
She's also translating that growth mindset into the rest of the class. As well as being flexible with their schedule, Dr. Sjogren wants to give students a chance to reflect on their performance each week, by giving them an assignment designed to grow and develop their emotional intelligence. "Psychology research says that to be emotionally intelligent, you should be able to recognize thirty to forty emotions in yourself and others," she said, "That's a lot, and we don't really integrate that into our classes." The assignments will ask students to think back on their work from the week, and how they reacted to it emotionally. "Bioinformatics can be extraordinarily joyful and intolerably frustrating, so emotional intelligence can be an incredibly useful skillset to have when learning it."
Dr. Sjogren has also built her grading policy around allowing resubmission of assignments, so that students can focus on trying out different and creative approaches, rather than being stressed about getting every single detail perfect when they submit. The first submission will always be graded for completion, and then "as students resubmit, [the projects] will be assessed for content." She wants students to have the freedom to make mistakes, because "mistakes are part of learning."
Comparative Plant Transcriptomics is the perfect class for students who are interested in learning about next-generation sequencing technologies and how to analyze the data they produce. "As a plant biologist," Dr. Sjogren said, "I obviously think plants are pretty cool, but what we learn in the class can be easily translated to other areas of research using animal samples." She hopes that students will come out of the class with an appreciation for genomic diversity and the power of NGS, as well as a newfound appreciation for bioinformatics.