If you know anything about the BIT faculty, it's that they are some of the most welcoming people you will ever come across. Dr. David Bullock, one of the BIT Program's newest teaching postdoctoral fellows, is certainly no exception. Just minutes into the interview, I could already tell he is going to make a great professor one day – and should also consider a side career as a motivational speaker.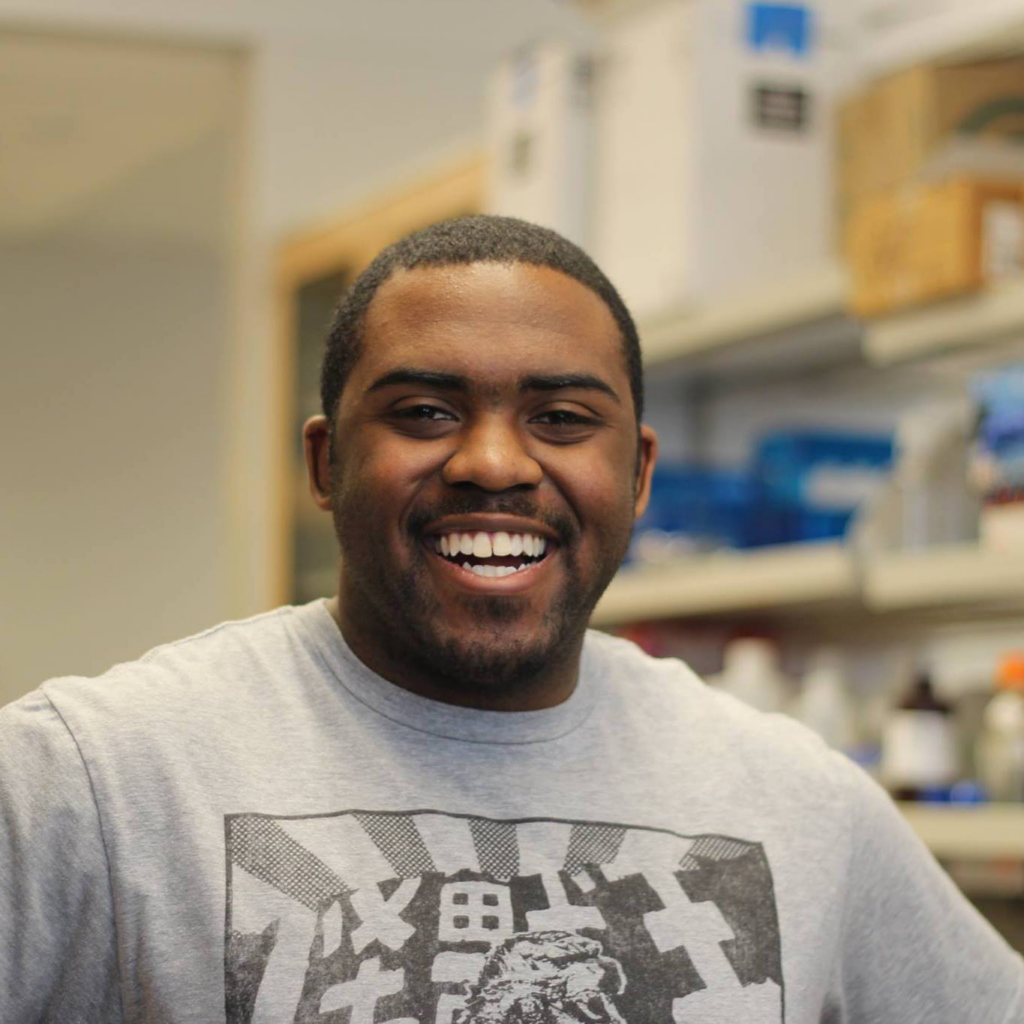 Dr. Bullock started his journey at North Carolina Central University (NCCU) where he majored in General Biology and minored in Chemistry. This is also where he discovered his appreciation for teaching. "[My professors] were the bees knees, so to speak, and I wanted to be just like them… I wanted to go into teaching because my professors at NCCU inspired me to be in teaching, and I wanted to get my PhD because you need a PhD to instruct undergraduate students," he said. Seems easy enough, but those who have received a PhD know it's anything but simple. After earning his Bachelor's degree, Dr. Bullock spent some time working in Vivian Cheung's lab at the University of Michigan, which he referred to as the "coldest experience I've ever had." He had previously done a summer internship there and decided to go back in order to gain more experience before starting his PhD. After practicing molecular biology techniques using yeast, Dr. Bullock returned to North Carolina where he earned his PhD in Genetics from NCSU, working in the Alonso-Stepanova lab. His project focused on identifying the initial molecular mechanism of Arabidopsis thaliana plants' response to ethylene, specifically the effects on their growth patterns in the dark. He mentioned how they had to set up an automated infrared imaging system to observe the plants in the dark room, something that is out of a typical biologists' comfort zone but none-the-less a unique experience that sets him apart.
In addition to his work in the lab, Dr. Bullock was also a teaching assistant (TA) for GN 311 Principles of Genetics for 5 years. No matter what level of school you're in, you're bound to hit roadblocks, experience doubts, and face hardships. Once Dr. Bullock started teaching in person, he was reminded of why his PhD was going to be worth it. "I often had tough days in the lab trying to get my experiments to work, but I never struggled to teach. I never had a dread teaching people, I never had a dread interacting with students," he said. "When I'm teaching, I get to both [learn and be around others]. I still get to interact with the material, but I also get to interact with students." With this goal in mind, Dr. Bullock applied to be a teaching postdoc at the BIT Program after he earned his PhD. He mentioned how BIT stood out to him because it's one of the few programs that offers a fellowship designed around teaching and course development. When I asked how his first month with the program had been, the first words he said were, "This is the best job I've ever had. I don't regret a single day coming into this office and doing my work… Five out of five stars, I would recommend this job to anyone." 
"I want to increase the proportion of minority students in STEM by being a positive professor and being a positive role model for them"

-Dr. Bullock
Dr. Bullock's main goal in life is to give back to his HBCU (historically black college/university) alma mater, NCCU. He's hoping that the principles he learns through this program and the course material he develops can be integrated at NCCU so that more minority students are able to experience molecular biology. "I want to increase the proportion of minority students in STEM by being a positive professor and being a positive role model for them," he said. Dr. Bullock mentioned that NCCU is designed to create "preachers, teachers, and farmers." But with the resources that he collects from NCSU, he could be the start of a ripple effect that might add "scientists" to that list.
Until then, Dr. Bullock will be spending the next three years with the BIT department, building up his "teaching toolbox." He is currently co-teaching BIT 410/510 Manipulation of Recombinant DNA with Dr. Stefanie Chen. In the Fall of 2023 he hopes to launch his own BIT module where students will get to learn plant cell culture techniques and use CRISPR to transform plant calli and knock out ruby, a gene that induces red fluorescence. This coming spring semester (Spring 2023), he will teach BIT 410/510 again – by himself this time – along with co-teaching BIT 471/571 RNA interference and model organisms with Dr. Srougi. He has also been collaborating on educational research projects in mindset and career decision-making with his mentors, Dr. Srougi and Dr. Chen.
Dr. Bullock wants all future scientists to know they should drive for comprehension, not perfection. "It's okay to fail, it's okay to struggle. The key is learning from those and becoming a better person, a better scientist, and a better student," he said. Molecular biology is definitely not an easy field to achieve perfection in. Moreover, understanding why things happen the way they do is arguably more important than reaching perfection, and finding the motivation to keep pursuing this goal will take you far.